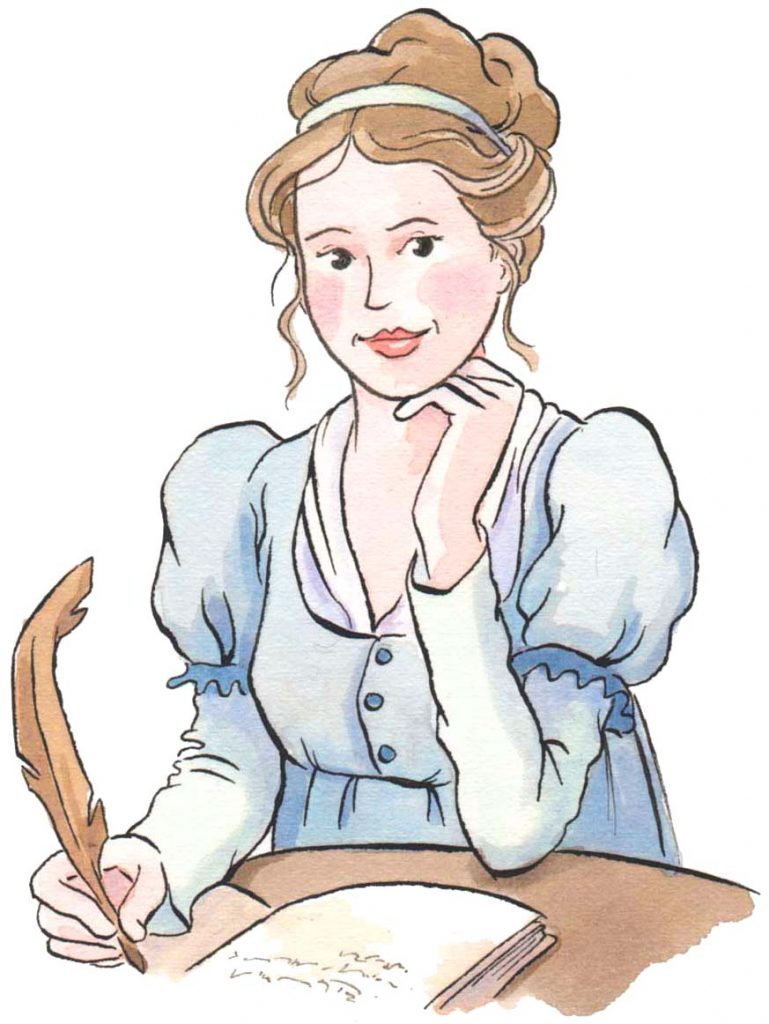 Jane was born on 16 December 1775, at the rectory in the village of Steventon in Hampshire, England. The youngest but one of eight children, she was educated mainly at home and never lived apart from her family. She played a lot with her brothers, but was closest to her older sister, Cassandra. The children wrote and performed plays to amuse themselves, and even as a little girl Jane was encouraged to write.
When she was fourteen she wrote her first novel, Love and Freindship (yes, she couldn't spell!), and then a rather ambitious History of England. In her early twenties Jane Austen wrote the novels that were later to be published as Sense and Sensibility, Pride and Prejudice and Northanger Abbey.
Jane loved dancing, and went to balls in many of the great houses of the neighbourhood. She adored the countryside, so was horrified when her father announced to the sixteen-year-old Jane that the family would be moving to Bath. Jane hated the confines of a busy town and missed Steventon. To make matters worse, her father died in 1805, which left the family very poor. Then, while on holiday, Jane fell in love, but the young man died soon afterwards, leaving her deeply upset.
The family could not afford to stay in Bath, so Jane moved to Southampton with her sisters and mother to live with naval brother Frank and his wife Mary. Her favourite brother, Henry, was a prosperous banker in London, and Jane often went to stay with him, enjoying art exhibitions and visits to the theatre.
In July 1809 her brother Edward offered his mother and sisters a permanent home on his Chawton estate, back in the Hampshire countryside. It was a small but comfortable house with a pretty garden, and it provided the settled home which Jane needed in order to write. She revised Sense and Sensibility and Pride and Prejudice, and then embarked on a period of intensive writing which produced Mansfield Park and Emma. Persuasion and a rewritten version of Northanger Abbey were published in 1818, the year after her death. In her last years she suffered from a kidney illness called Addison's Disease, for which there was no cure. As she could not walk far, she used a little donkey carriage which can still be seen at the Jane Austen Museum at Chawton. Jane died in her sister Cassandra's arms in the early hours of 18 July 1817. She was 41 years old.
None of Jane's books published in her lifetime had her name on them – they were always described as being written 'By a Lady'.